It's Feature Friday again, and today I'm looking at Debbi and Amanda of
Yankee Burrow Creations
on
Etsy
. This mother/daughter team are fiber fanatics from North Carolina and can knit or crochet you a variety of items.
First, some non-trad ways to use specialty yarn! This is a
hot pink flip-flop
statement piece, ready for the beach or walking around town. There are several other colors available, so make sure to check them out.
Next is something a little more traditional. This
skinny scarf
is great for the in-between warm and cold weather in Spring and Fall when it's not quite cold enough for a coat and not quite warm enough to go around in your shirt sleeves.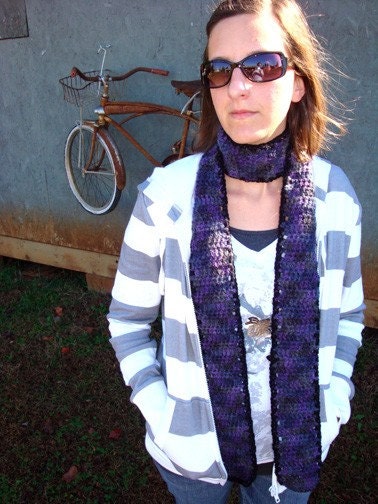 And finally, for something a little warmer but still not ready for those cool autumn nights, this
brown shawl
is a perfect wrap. It's over 8.5' long and 12" wide, perfect for wrapping your shoulders if you're going out in the summer around sundown.
Don't forget to follow these ladies online!
Etsy
-
Blog
-
Twitter
-
Facebook
-
Creating the Hive
Are you enjoying reading my features? Would you like to write some of your own, and be included in similar stories? Consider joining the
BESTeam
on Etsy!